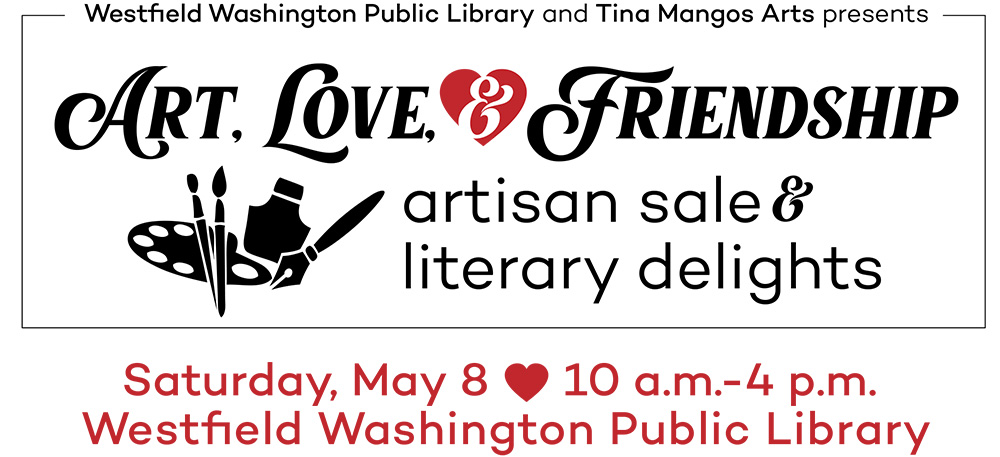 Please note—New date: Saturday, May 8
Dear artist:
It's been a tough art fair season—or lack of art fairs—so we are generating some love and sales in May (previously scheduled for Feb 6). Join us in a day of art and literary delights.
Deadline to submit your request to participate in the artisan sale is March 15, 2021
* $20 administrative fee and all sales go to the artist (Fee is for the booth, even if it's
2+people) A link for payment will be sent out once you're confirmed.
* Your booth space: Artists are spread out throughout the library so there are various set-ups, all on one level. We have some 6-ft tables, along with the wooden library tables. Items can also be displayed on top of bookshelves. We ask that you bring tablecloths, decorations, and whatever is needed to make your booth area look attractive.
Once confirmed, I'll send you a photo of your area so you can better plan your set-up.
* Hanging artwork: There are some areas with blank walls, but you need to use something that does not damage the wall. You may also put a table against a wall or bring a display.
* Eating is not allowed in the library, but there is a community room downstairs where you may take your lunch. Bring water since the drinking fountains are closed.
* Promotions/Marketing: The Westfield business community and the city will promote this event through local publications, social media, fliers in businesses, and email lists. Artists are expected to promote through their mailing lists and social media and include the flier.
* Set-up and take-down: You must be "ready for business" at 10 am, which is the opening time for the library. Therefore you need to set up the day before, Friday. Contact me if you can't, and I'll see if it's possible to come in at 9 am and get set up in one hour. You can start setting up Friday afternoon until 7 pm. The library closes at 6 pm and a staff person will stay for one more hour. Keep in mind your work will be exposed to the public if you put it out prior to 6, so you'll have to stay and monitor it until 6. If anyone sees your work and wants to buy it, you may hold it for them, but the sale will occur on Saturday.
By submitting the form below, you agree to follow the terms of the event.
All work must be hand-made by the artist and not manufactured.
---