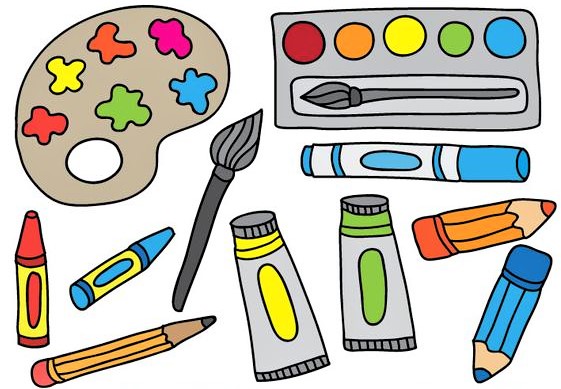 Well-designed programs to round out your child's education and enhance creative expression.
stress-free environment
activities that offer both "quiet time" and interaction
sense of accomplishment
learning new skills and knowledge


Parents, here's a link to a survey for your input to better plan class offerings.
Both after-school and homeschool classes
Age groups: While classes are geared toward a certain age group, there are some classes where the project is suited for all ages, with each student creating at his/her skill level.

Adult programs: We offer "creative socials" with various topics and taught by guest presenters. Also, classes are created as the need arises, so please get on the mailing list for updates. Contact Tina if you have a group interested in a particular activity.

Curriculum design and instruction: Tina Mangos has 40 years' experience with a wide variety of educational settings–from youth to college age to seniors. She has two master's degrees and an Indiana teaching license. Her lifelong purpose has been in creating courses in the arts, training teachers, choreographing for dance events, making art, and directing events. Tina's method of "cross-training the brain" helps students develop both analytical and creative thinking through a logical yet fun process.
Parents, please contact Tina if you have any questions.
Customer Comments:
""I had so much fun in the class! We did projects I've never done and learned how to work with different elements. The teacher is so easy to talk to and great at teaching."
Kendra Woodruff age 16
"I am so happy, Tina. I spoke with their mom yesterday and the kids LOVED the class!!"
Megan Contreras, YAP Westfield
"I loved the inclusion of advanced art vocabulary and concepts surrounding color and design theories. This class has not only reinforced concepts I have been teaching my children, but has given them language to discuss and critique art (their own and others). The class was affordable and a good length for us. 'Miss Tina' is friendly, patient, and encouraging."
Homeschool Parent
"My girls love having Tina for art. All the classes they have taken with her have helped them grow in their art knowledge and skill. As a mom who values the arts, I appreciate that my kids have the opportunity to be taught by someone with such a depth of knowledge and teaching experience."
Homeschool Parent
"She absolutely loves the class!! She talks about it all week. I love how much she enjoys your class."
Homeschool parent of 8-year-old
wonderful class.  They both absolutely love it. I love how you have them progress to an awesome finished project.  Before coming to you, their art class (if you can call it that) was disappointing.  So happy we found you!"
Mom of 2 girls: 8 & 9 years old
"We love your class and all that you do for our children.  Please sign up Julianne for the next session.     We do love our girl and she sure does love you.   You have such a personal touch to everything you do.  It's very appreciated." 
Mom of 9-yr-old
"Thank you!! She loves your art class and the mobile now hangs in our dining room."
Homeschool parent
"My daughters love your class.  I'm so pleased that you have so many years' experience and I like the structure of your class.  You're personable and you explain concepts like perspective, etc. in a way that's easy to understand.  They're learning a lot and the projects are so creative.   Thank you for providing all the art materials and still keeping the cost very affordable."
Homeschool parent of 2 teens  
 Salsa Dance Workshop for NCL (7th-grade students and moms):
"This may be my favorite cultural event of all time!!!!!!!! I love this!!!!"
Mom
"We loved this so much! Thank you for such a memorable night with our daughters and our class of 2027"
Shelley Robinson